Friday, March 30, 2012
Red Dice PSD and PNG
Here is some cool and Red Hot Free Dice Psd & Png from your True Friend Sarah ! – Yeah ! They are High Resolution !
Wednesday, March 28, 2012
Adobe Photoshop CS6 Beta Professional
Publisher's Description
A whole new experience in digital image editing:
Thank you for checking out the Adobe® Photoshop® CS6 beta
The world's best digital image editing software is about
to get even better. Explore Photoshop CS6 beta for a sneak
preview of some of the incredible performance enhancements
imaging magic, and creativity tools we are working on.
Discover for yourself why Photoshop CS6 software will be a
whole new experience in digital image editing.
Photoshop CS6 Highlights:
Content-Aware Patch — Patch images with greater control using
the newest member of the Content-Aware family of technologies.
Choose the sample area you want to use to create your patch,
and then watch Content-Aware Patch magically blend pixels for
Blazingly fast performance and a modern UI — Experience
unprecedented performance with the Mercury Graphics Engine,
which gives you near-instant results when you edit with key
tools such as Liquify, Puppet Warp, and Crop.* Plus, a refined,
fresh, and elegant Photoshop interface features dark background
options that make your images pop.
New and re-engineered design tools — Create superior designs fast.
Get consistent formatting with type styles, create and apply custom
strokes and dashed lines to shapes, quickly search layers, and much more.
You will also discover hundreds of new ways to work faster and with
greater creative freedom and precision when you dive into Photoshop CS6 beta.
Important Notes About Photoshop CS6 Beta:
Photoshop CS6 beta includes all the features in Photoshop CS6 and
Photoshop CS6 Extended. Take this opportunity to try out the 3D image
editing and quantitative image analysis capabilities of Photoshop Extended*,
but note that—while these features will be included in the shipping version
of Photoshop CS6 Extended—they will not be included in the shipping version
Adobe ID login and online activation are required either at installation or
within seven days after your first launch of the Photoshop CS6 beta. The
same requirements will be in place for the shipping version of Photoshop CS6
when it is released. Your Adobe ID provides multiple benefits, including an
easy way to access your serial numbers, the Adobe.com community, and the
upcoming Adobe Creative Cloud™ membership.
Photoshop CS6 and Photoshop CS6 Extended will be part of the Adobe Creative
Suite®, and Photoshop CS6 Extended will be part of Adobe Creative Cloud membership.
Both Photoshop editions will also be available separately.
Getting Started:-
Follow these steps to get started with Photoshop CS6 beta:
Download and install Photoshop CS6 beta.
You do not need a serial number to install and use the beta. Simply
select "Try. I want to try Adobe Photoshop CS6 for a limited time." in
the Welcome Screen when you start the installation process.
Read the Photoshop CS6 beta installation and feature notes.
Ask questions and share your feedback in the Photoshop CS6 beta forum.
Sign up to be notified when Photoshop CS6 is available for purchase.
Please note that your submission of comments, ideas, feature requests
and techniques on this and other Adobe maintained forums, as well as
Adobe's right to use such materials, is governed by the
Adobe.com Terms
of Use
.
From VideoPad Video Editer

:

NCH Software's VideoPad Video Editor Professional is a full-featured video-editing tool that is surprisingly easy to use. It can combine numerous clips and soundtracks in a wide range of video formats into movie projects, or build an entire production out of a single clip. It supports drag-and-drop editing, real-time effects previews, format conversion, importing and exporting files, captions, narration, and more. It can burn DVDs, HDs, and Blu-ray discs and output video to portable devices. It can also capture video from camcorders and other devices.

It's a rare video editor that you can just fire up and start making movies with, but that's what we did with VideoPad Pro. We browsed to a cartoon saved as an MPG file. VideoPad Pro scanned it and displayed it in the left half of the split main view, with its frames running sequentially along the bottom of a main preview window in a scrollable, time-marked view, and also displayed its information in the left-hand Media List panel. Pressing the Play button played the clip normally. Extracting clips from the main clip was incredibly simple; using the timeline, we selected an In Point and an Out Point and clicked the green down arrow. VideoPad extracted the clip and displayed it below in the Video Track section, which is just above the similar Audio Track. In this manner, we quickly cut up and rearranged the cartoon out of sequence, and then previewed it in the right-hand pane. The transitions between merged clips were seamless. We could save our finished clip or subject it to a wide range of processing and production tools. Toolbar icons let us quickly insert blank spaces or add narration, captions, and other effects. Clicking Build Movie called up a dialog that let us select the video format and whether to burn a disc, send it to a portable device, upload it to YouTube, and other choices.

With smartphones, video sharing sites, and Webcams everywhere, there's no lack of raw video resources, just a need for a powerful, easy-to-use tool like VideoPad Video Editor Professional to put your projects together, polish them up, and present them in the format of your choice. More than just fast and competent, though, we also found it fun to use.
IDM 6.07 Final with Serial Key
Publisher's Description
Internet Download Manager is a tool for increasing download speeds by up to 5 times, and for resuming, scheduling, and organizing downloads. The program will resume unfinished downloads due to network problems, or unexpected power outages. The program features a full-fledged site grabber that downloads files that are specified with filters, for example, all pictures from a Web site, different parts of Web sites, or complete Web sites for offline browsing. The program supports HTTP, HTTPS, FTP and MMS protocols, and has an adaptive download accelerator for MP3 audio, FLV and MPEG video files. The program also features Download Video and Audio Panels for Internet Exporer, Chrome, Opera, Safari, Firefox and other Mozilla based browsers that appears on top of a web-player and can be used to download flash videos from sites like YouTube, MySpaceTV, Google Videos.
What's new in this version:
Version 6.07 build 3 improves "Start download" dialog, adds more options on "Download progress" dialog, and includes all known bug fixes.
1. Unrar and scan the .exe file with your Antivirus pro (for safety)
2. Run (as Administrator for windows xp, vista or 7) the file idman607.exe
3. Install the software / when done.
4. Go to Registration and Register your software with your desired details and the serial (included)
Registration Detail:
First Name: your name
First Name: your name
E-Mail: your e-mail
Anything you like to input
Serial:
DBNJC-D4R59-YPAGA-T3S1Q
Sweet Home 3d 3.7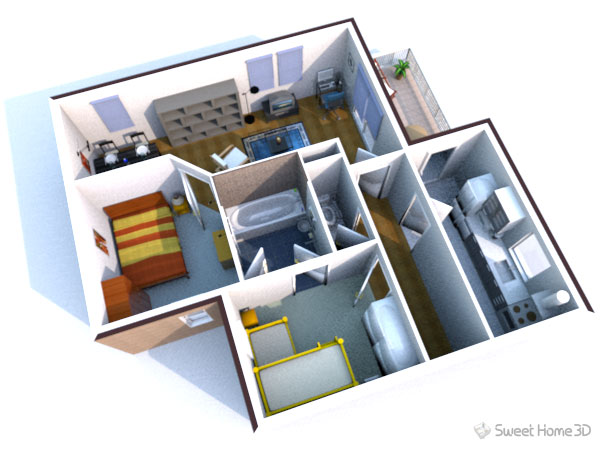 Publisher's Description
From Sweet Home 3D

:
Sweet Home 3D offers users a chance to see a remodeled room or a brand new home before a single nail has been driven. With a fairly simple premise and impressive results, this slightly flawed program is certainly something to get the imagination going.
The program's interface is very easy to use. The left side of the screen contains a file tree for every room in the house, and clicking on each room presents a list of all appropriate furniture you can drag into the adjacent box. The area is a grid with measurements corresponding to room size. Below the file tree is a space for each item in the room and its approximate size. At the bottom of the screen is a small box that provides the 3D view. Designing a room is very simple. By dragging furniture into the grid and positioning it as you envision your redesigned room, a clear picture appears below, providing an impression of space that two-dimensional sketches cannot. In addition, there is an exciting Virtual Visit option that lets you walk through your home and its rooms.
While the results of Sweet Home 3D were impressive, we were slightly disappointed with its control. Placing items in the room will take some patience, as it feels rather clunky. However, with a little practice, we are certain users will be able to use this free program to design something impressive.
Corel Smart Draw 21.0.2.4.rar
Publisher's Description
From Corel SmartDraw 2010

:
Word processors work wonderfully, right up until the time you need to draw a diagram to illustrate your work. SmartDraw provides a handy shortcut for anyone in this situation, offering a plethora of diagram templates and art elements that eliminate the need to start from scratch.
A huge variety of possible uses has been included, from software engineering or business modeling to anatomical illustration. Generic templates include flowcharts, organizational charts, mind maps, family trees, ER diagrams, and far more. A clip-art collection helps fill out the basic templates, and a drag-and-drop tool lets users easily add frequently used symbol combinations. The program also functions as a standalone drawing tool, supporting free-hand drawing, image layers, text, and tables. Work can be saved in a number of formats including JPEG, PDF, HTML and AutoCAD Interchange.
As a fast illustration or business tool for someone who's not doing full-blown design work, we think this program functions extraordinarily well.